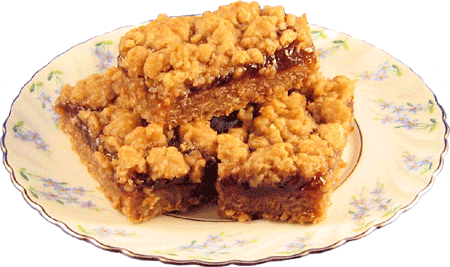 Last Saturday night, Matt and I went to a Saint Patty's day party. The hosts asked us to bring a dessert and I was more than happy to oblige! I knew that one of the guests was pregnant and wouldn't eat anything with chocolate, so that was my biggest challenge. Finding a dessert that was light, easy, and didn't have chocolate. After much Internet research, I found something that pleased the crowd. I used apricot jam, but I think it would taste really good with raspberry or strawberry preserves as well!
CKS Note: I used quick-cooking steel oats and my bars looked nothing like the picture, but they still tasted very good!
1 c. all-purpose flour
2-1/2 c. uncooked quick oats
1 c. packed light brown sugar
2 tsp. baking soda
1/4 tsp. salt
1/2 tsp. ground cinnamon
1 c. butter, softened
3/4 tsp. almond extract

Preheat oven to 375F. Beat butter in a large bowl until smooth. Add the first 6 ingredients and beat until well blended and crumbly. Reserve 1/3 of the mixture for topping. Press remaining 2/3 crumb mixture onto bottom of un-greased 13 x 9 inch baking pan. Bake 15 minutes; let cool on wire rack for 5 minutes.

Combine preserves and almond extract; spread over crust; sprinkle evenly with reserved crumb mixture. Return to oven; bake 20 to 25 minutes or until topping is golden and filling is slightly bubbly. Cool completely in pan on wire rack. Yield: 2-1/2 dozen bars

Note: If using raspberry or blackberry preserves, buy the seedless variety for a smoother filling.